EASY LINEN BLOUSE
YOU WILL NEED
1 yard of IL019 Medium weight linen
SEWING INSTRUCTIONS
1. Pre-wash your fabric using our recommended washing instructions here.
2. Fold your fabric into quarters. First match the two cut edges together, then fold in half again so the selvedges meet.
3. Mark your fabric as shown in the diagram below.
4. I made a mark with tailor's chalk for the length and width, and lightly drew a curved line for the neckline and hem.
5. Cut out the neck, and the curved hem.
6. Sew around the hem and neck with a 1/4" seam allowance. If you have a serger, you can simply serge these edges. This will help us press and hem the curved edges.
7. Press your hem and neck opening over twice 1/4" using your sewn or serged edge as a guide. If you have serged your edge you can just fold over 1/4" once if desired. Top stitch your hem close to the inner folded edge.
8. Topstitch your hems close to the inner folded edge.
9. Fold your top in half again, aligning the front and back hem. Mark a 4" line just above the bottom curve on both left and right sides.
10. Sew your top together along these marked lines, on top of your previously sewn hem. This will create "sleeves" and side seam in one!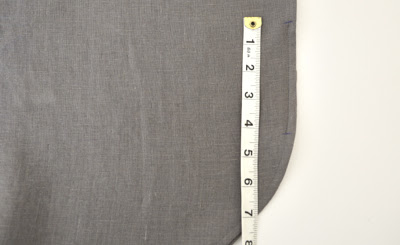 All done! Enjoy!