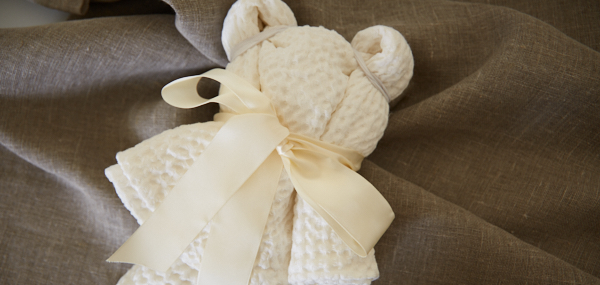 WAFFLE TEDDY BEAR BLANKET GIFT SET
Make 2 swaddle blankets, 3 burp cloths and 2 wash cloths in this adorable set. includes instructions for folding one blanket into a teddy shape!
YOU WILL NEED
3 yards of our IS010 Waffle Weave fabric
Matching thread
Approximately 1.5 yards of ribbon of your choice
INSTRUCTIONS
1. Cut the unwashed fabric according to the cutting layout below. The pieces you are cutting are bigger than the finished project to allow for shrinkage.

2. Hem all 4 sized of each cut piece: Hem each side by folding over ½" twice, then sewing close to the inner folded edges. It's easiest to do the two long edges first, then the smaller edges for a clean finish.
3. Pop it in the wash and dry. We will use the swaddle blanket as an example of how to make the Teddy Bear. The cloth will come out of the drier shrunk down to about 40x40". Fold this into even quarters.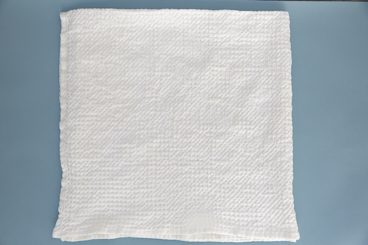 4. Roll two ends into the middle.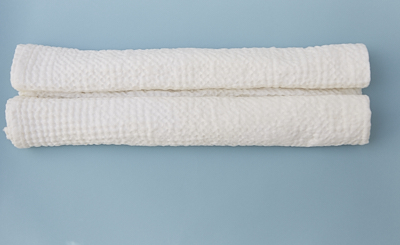 5. Fold with the rolled sides facing out. One end should be longer than the other.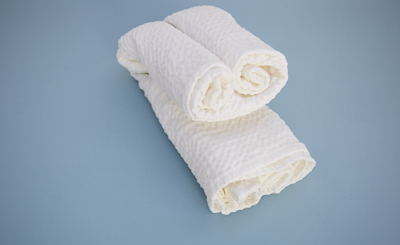 6. Place with the shorter side facing you and unroll the fabric slightly. Place an elastic band around the blanket to create the head. We will cover this with a ribbon later.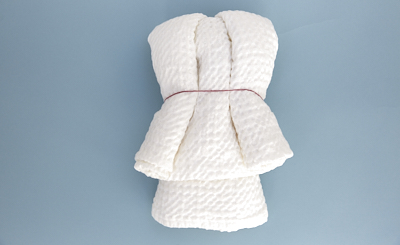 7. Pinch two ears from the tops of the rolled fabric on each side. I've secured them with a dark elastic for the purpose of clarity. Use a matching tie or ribbon for your Teddy.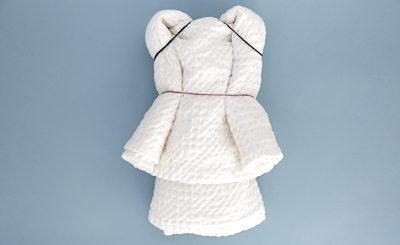 8. Tie a ribbon around the neck, pulling in firmly to create the neck shape.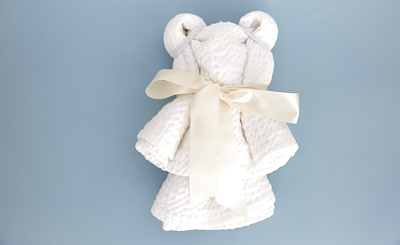 Done!

After the wash and dry - the burp cloths become about 27" by 20"; and wash cloths will become about 13"x13"

_______
Want to know more about hemming and working with the waffle fabric? See our 4 part series dedicated to this fabric HERE.