The majority of our Linen fabrics have not been pre-shrunk or pre-washed. The information in this article will help you understand shrinkage and let you know where to find out about shrinkage for your linen. Please note that our shrinkage estimates are based on a cool/ warm gentle cycle wash with a low heat setting dry. For more information about washing your fabric, see THIS article.

If you're familiar with our fabric types, you may know that each article of fabric is woven differently. This means that shrinkage can happen differently across our different fabrics. Depending on the way your fabric has been woven, the thread size, and thread count - it will shrink evenly across the length and the width of the fabric, but will most likely shrink at different rates.


To learn more about our fabric types, please see THIS article, or click the link below.
Link: https://support.fabrics-store.com/hc/en-us/articles/4402361782797-Types-of-Linen-Fabrics-Explained-Whats-is-Basic-Open-Weave-Jacquard-and-Yarn-Dye-


The best place to find out about fabric shrinkage is your fabrics product page on our website. We will list fabric shrinkages in the description:

Here is an example from our Jacquard IL002 Fabric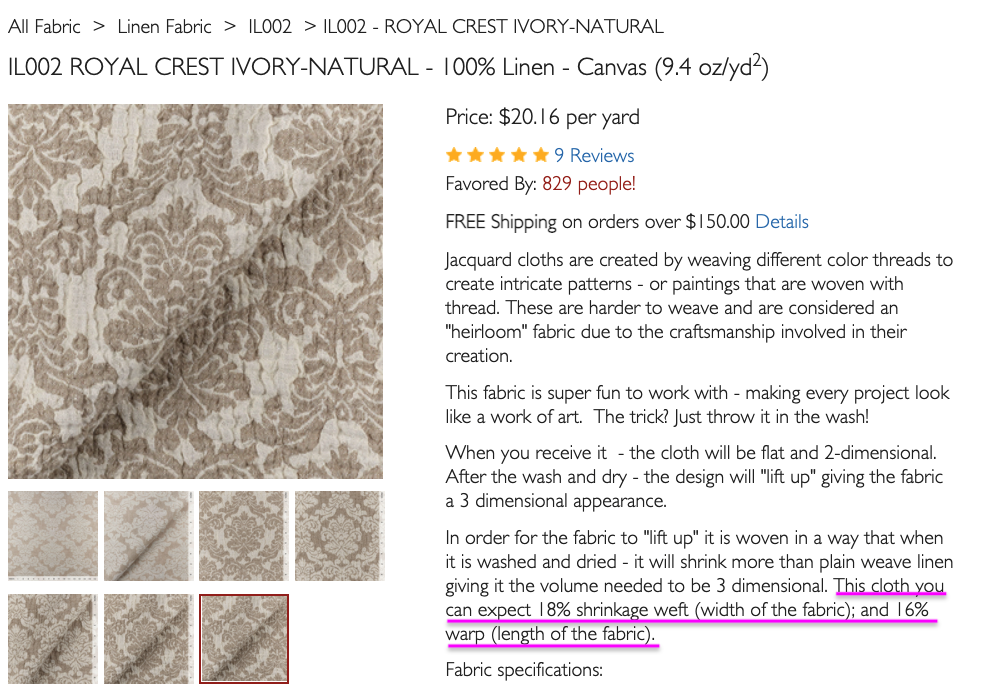 Some of our fabrics may not have shrinkage listed. This is because it either conforms to our standard 10% shrinkage or has the standard shrinkage for the finish it has applied to it. These finishes can affect the shrinkage of the fabric.

Additionally, if you have one of our fabrics from our Basics range, you can generally expect the following shrinkage based on the type of finish too.

These are the basics fabrics: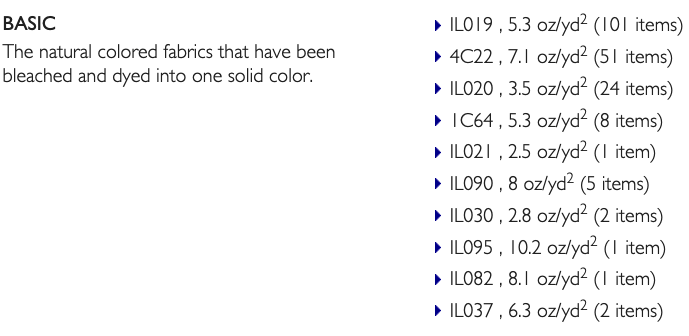 Estimated shrinkage by finish type:
We have calculated the estimated shrinkage based on the finish type.
Please note that shrinkage will vary within this listed percentage since shrinkage will ultimately depend on the fabric's thread size, thread count, and weave type.
No finish - depends on fabric weave - basic weave fabric around 10% shrinkage
Softened - depends on fabric weave - basic weave fabric around 7-10% shrinkage
Premier Finish - depends on fabric weave - basic weave fabric around 7% shrinkage
Signature Finish - depends on fabric weave - basic weave fabric around 3% shrinkage
*** for all other weave types, shrinkage is listed on the fabric product page under the description.
Thread thickness and type of staple used, as well as how the thread is used for warp and weft is what actually determines the shrinkage specifics. And because of that, the shrinkage of the same finish will vary between two fabric articles. ex. IL020 softened will shrink differently than 4C22 softened.


As always, please feel free to email us or comment on this article if you have found a fabric you love and want to know more about the estimated shrinkage.

Email form link: https://support.fabrics-store.com/hc/en-us/requests/new
Email Address: ask@fabrics-store.com