We specialize in Linen fabrics and a few cotton-linen blends. While browsing our fabrics you may have come across terms like Basic, Open Weave, Jacquard, and Yarn Dye to describe our fabrics. This article will break down what all this means.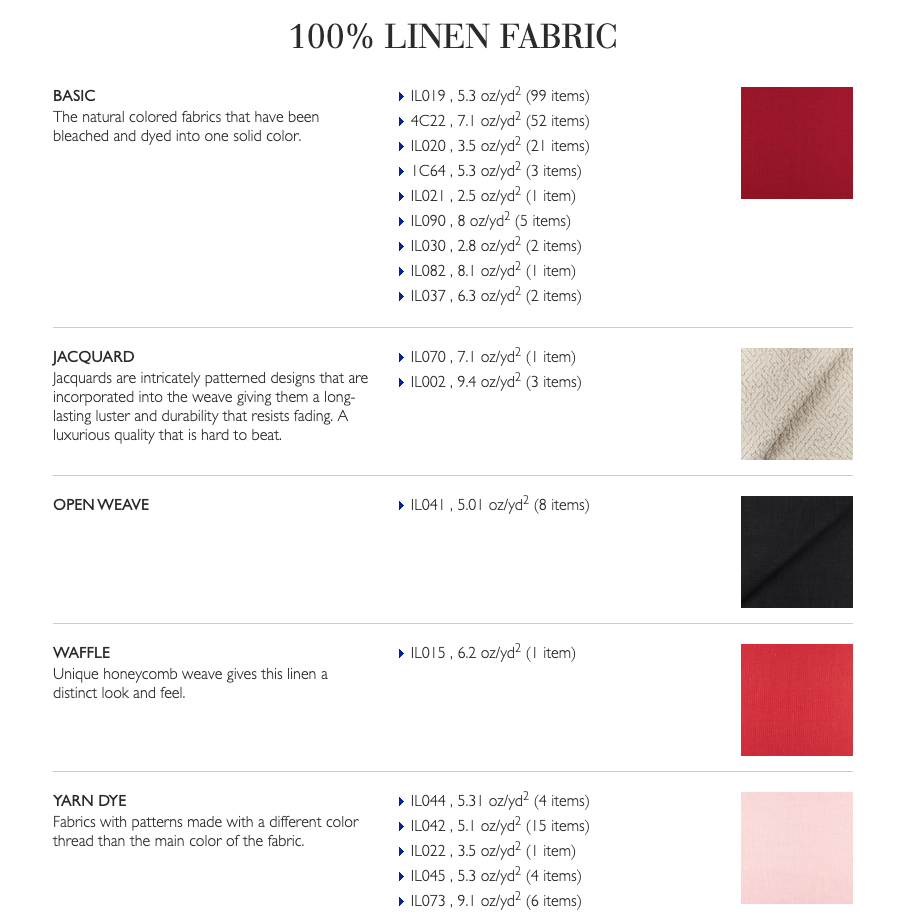 Linen is a special fiber that isn't often referred to by names such as voile, lawn, pique, and boucle like cotton, silks, and polyesters are. etc. Rather, linen is referred to by its weight (light, medium, heavy), and then the way it is woven or knit or the characteristics of the weave or knit.

We stock woven fabric only (no knits) and these are the categories that our linen falls into:


Basic
The Basic category contains plain-woven linen in one solid color. That color may be dyed, bleached, or the natural linen color.

A plain weave simply means the fabric is woven in a basic one over, one under fashion:

If you're new to Linen we highly recommend starting with our Basic linens, since they are the easiest to work with, affordable, and come in the widest range of colors.
To select the right weight for your project we have these great articles to help:
Blouse and Skirt from our Hana Pattern Collection in IL019 Bleached Middleweight Linen (Signature Finish)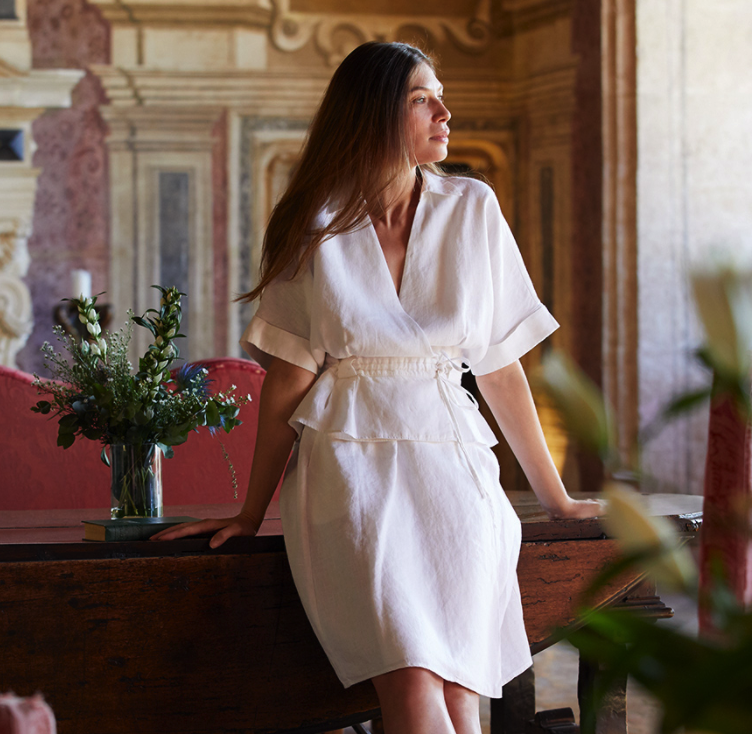 Churchill Dog Bed pattern In 4C22 Heavyweight Linen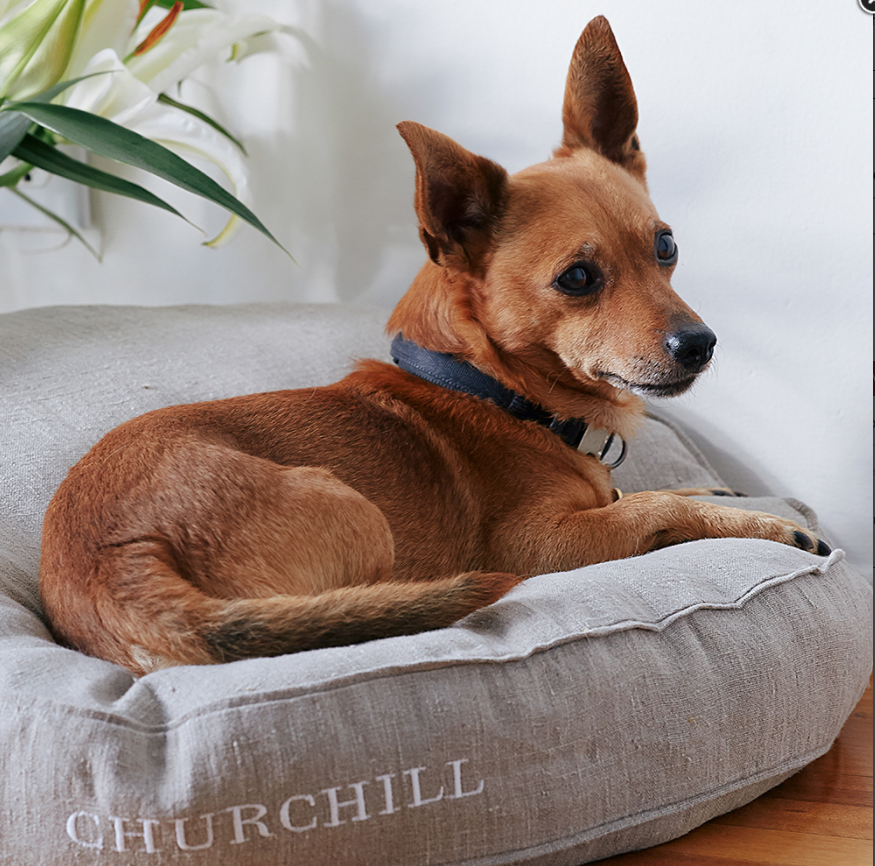 Gia Jumpsuit in IL020 Lightweight Linen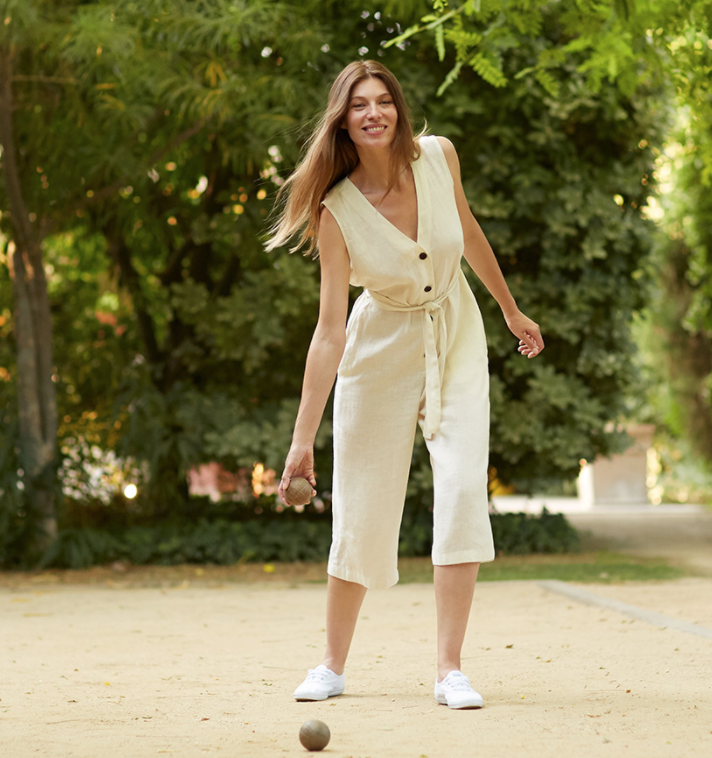 Jacquard
Jacquards are intricately patterned designs that are incorporated into the weave of the fabric. Different colored threads combined with special weaving techniques are used to create these patterns. This technique gives the fabric a long-lasting luster and durability that resists fading.

These fabrics are often heavier in weight and are great for bed covers, pillowcases, and even towels. Some jacquard will, when washed, have a 3D texture created by its special weave.

Close up of the wonderful textures of Jacquard fabrics

Guest towels in a Jacquard fabric. The pattern is created by weaving different colored threads into a pattern

Open Weave
Open weave fabrics are just that, fabrics woven loosely to create an 'open' looking weave. The loose weave makes these fabrics drape wonderfully, and the space between the threads allows for more air to travel through the gaps in the weave, making for a breezy wear.
The open weave is great for shawls, curtains, and even some clothing:

Sheer Curtains in Open Weave - IL041 Optic White Premier Finish

Shawl in Open Weave - IL041 Optic White Premier Finish
Abbey Top from our Abbey Pattern Collection in IL041 Oatmeal Softened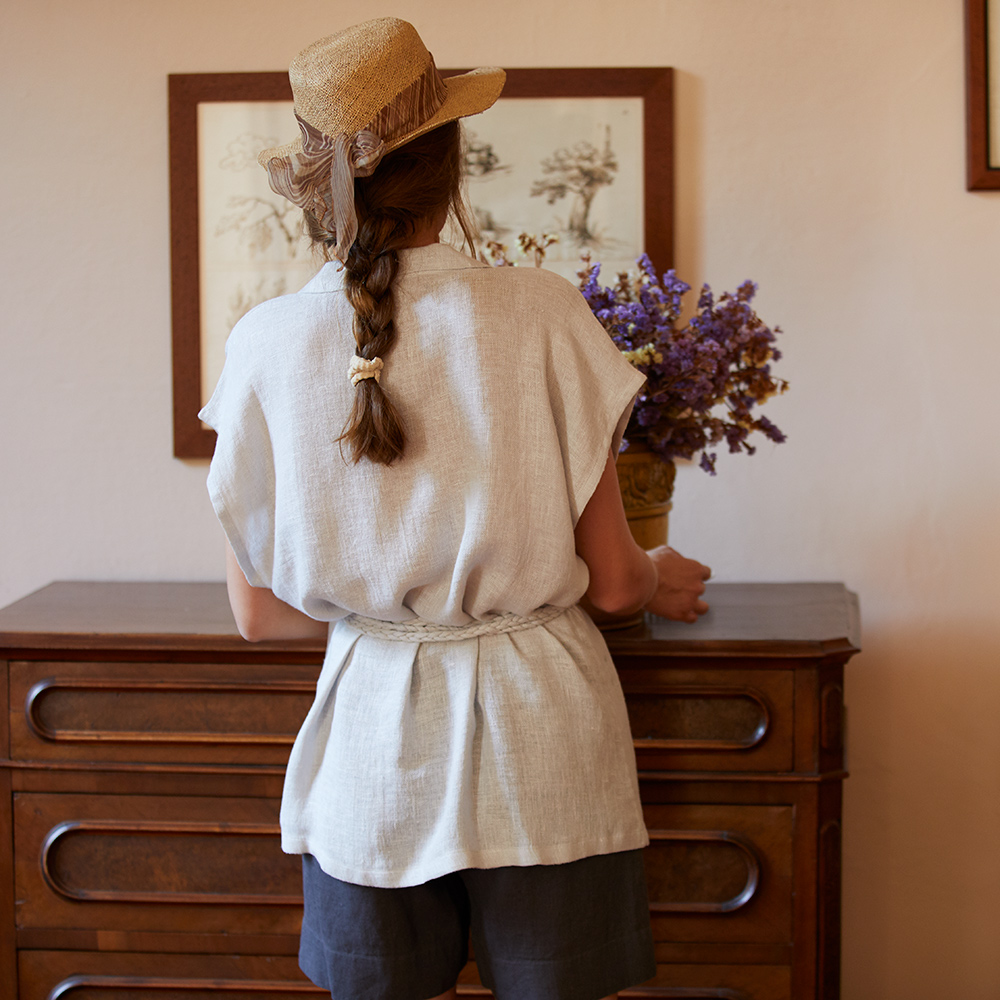 Waffle
Waffle fabric has been woven into a distinct honeycomb or grid pattern which comes flat but will expand into a 3D and wonderfully textured waffle fabric. This waffle linen can be used for a variety of different items that require a linen that has a texture that is subtle but makes a statement.

Waffle towels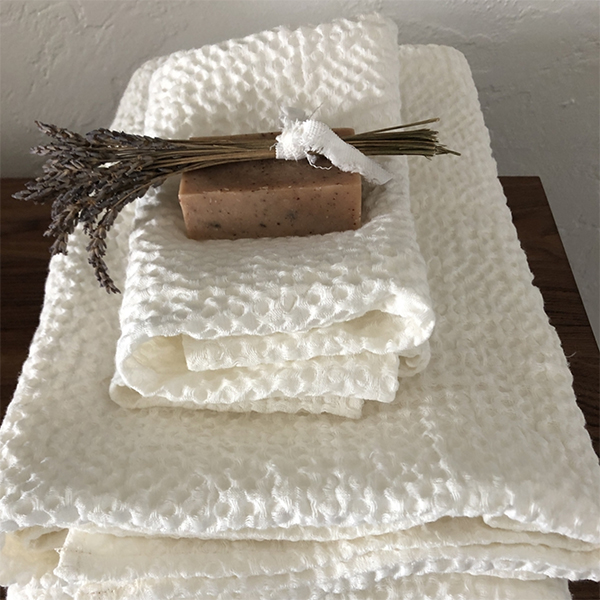 Robe in Waffle Linen
Yarn Dye
Yarn dye fabrics are created by weaving pre-dyed linen threads into unique patterns. Unlike the Jacquard fabrics, the yarn dyes are often plain weave, and usually not multilayered so they won't create the same 3D effect as a jacquard fabric, nor will be as thick. This makes yarn dye perfect for a wider range of uses.
Yarn dye fabrics can create stripes, checks, and gingham-type patterns in the fabric. They come in multiple weights such as canvas weight for placemats and table runners, to lightweight checks and stripes for dresses and blouses.
There is one special exception, which is our double-layered IL028 fabric. The cloth is double-sided, it is woven with two fabrics that are interconnected into one cloth via its unique weave which connects the two layers of fabric every 3/8" with a stitch that goes through both layers. It creates a grid that is easy to square up, but the magic is when you wash it, it if fluffs up everywhere the 2 sides aren't connected.
Leonor Romper Pattern made up in a striped yarn dye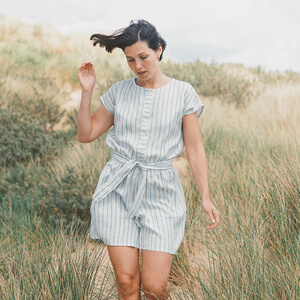 Kitchen Towels in IL084 Yarn Dye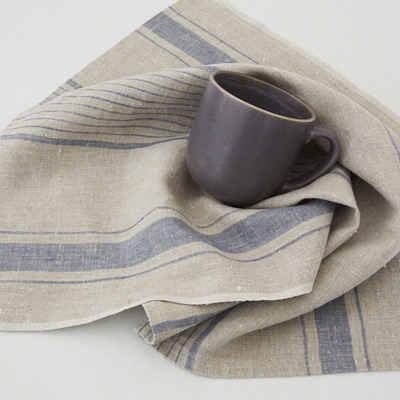 Robe in IL028 Double-layer yarn dye