This cloth is wider than our usual selection at 84" wide. Once it is washed - the cloth will shrink to get that dimensional waffle surface.
Approximate shrinkage - the

width of cloth shrinks 17% (weft of the fabric) and 28% on the length ( warp of the fabric)
You may have come across conflicting information about pre-washing your IS010 waffle weave. The quick answer is:

SEW FIRST, wash later if you are sewing a project that is:
- Square or rectangular like towels
- AND are only hemming the fabric
- AND shrinkage is easily added to your square/rectangular shape if you want to do the math.

WASH FIRST, sew later if you are sewing a project that is:
- a garment
- OR includes seams, especially curved ones!
- OR difficult or time-intensive to add shrinkage to the pattern.
Want to know why? read on...

Generally, if you are making an item that will be square or rectangular, like towels, blankets, and washcloths, you can add shrinkage to your finished project measurements, and cut and sew them before washing. Your hems may have a slight ripple to them, but this is important if you'd like your towels to be flexible as they take on moisture.
If you are following our diagrams, you will have noticed that they have been designed with the shrinkage added, so square towels may be cut and sewn from a rectangular shape, but will shrink to be square due to the uneven shrinkage.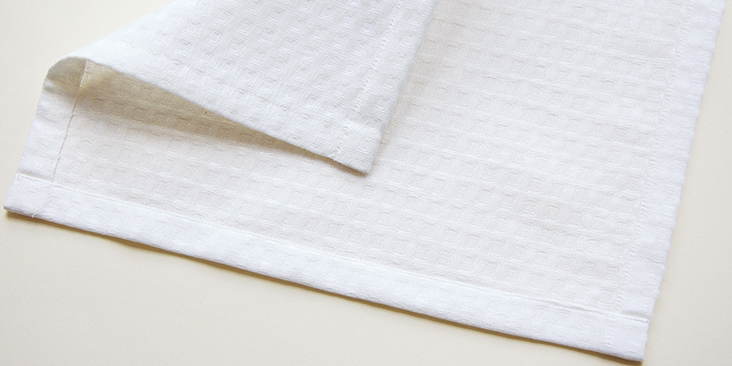 When sewing garments, always wash your fabric first. This is for a number of reasons but ultimately it is so you will have a garment that fits correctly wash after wash, with the right fit, smooth seams, and hems.
Even if you take the time to painstakingly adjust your pattern in each section according to the different length and width shrinkage rates, your seams may not shrink at the same rate as unsewn fabric. This will cause rippling and bubbling, especially along curved edges like hems, armholes, and curved collars. You may also find your seams have a bit of stretch in them, allowing your gorgeous waffle garment to sag! No Thank-you!

'Going Up a Couple of Sizes' is also a common misconception. The fabric will shrink more on the length than on its width, potentially resulting in a garment that is too wide and also too short... what a look!

But what about stretchy and rippled hems and seams on towels and blankets you say? Trust me, you will want your waffle towels to have a small ripple in them, this allows your towels to stretch along the seams slightly when wet, and your blanket to drape nicely when used. If it doesn't stretch that tiny bit, it'll look like a hot air balloon; all big in the middle and tight around the edges!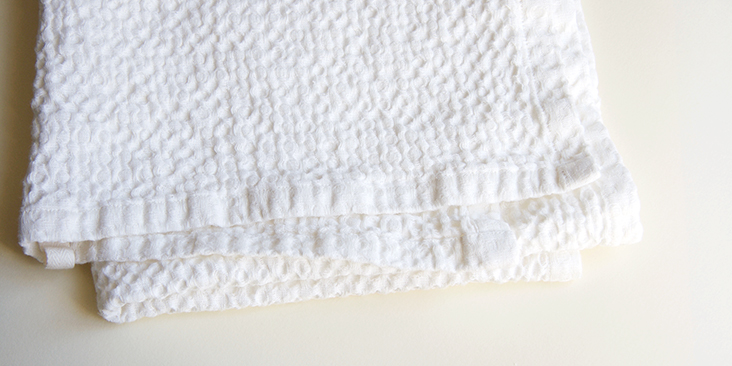 We have more articles in our Waffle weave series, and you can find them at the link below:

Cutting pattern pieces from washed IS010 Waffle Weave
Sewing with IS010 Waffle Weave Fabric