To ensure the longevity of your fabrics, wash them gently and with care by following our instructions below:
Cool or warm wash on a gentle cycle with a mild detergent free of harsh chemicals. We recommend clean, clear, and gentle style detergents.
Machine dry on a low heat setting or air dry flat. For linen, pull the fabric out of the dryer when it is still a little damp.
Warm to hot iron on just-damp linen for best ironing results.The cotton/linen setting on your iron is suitable for any other ironing and pressing. Use a press cloth if desired.

We strongly advise against:
Washing repeatedly with hot water and drying with high heat.
The use of bleach, harsh washing agents, and stain removers ( send us an email if you need help with getting a stain out)
The use of permanent press settings on your washer/dryer.
We recommend pre-washing your fabric using these care instructions, and using the same wash method you intend on using on your finished items. This will ensure you remove any shrinkage prior to sewing your item, and the fabric shouldn't shrink further once made up.
If you plan on making a dry-clean-only item, please take your fabric to the dry cleaners before sewing and cutting it into your fabric.

___________
We've worked and lived with linen for decades, so we've learned many tricks for getting the most out of our linen. We've also been asked many questions about preparing your linen for all of your different projects, so we've compiled a more comprehensive set of answers to your common fabric care and washing questions below:
1. Will the fabric fray in the wash? If so, how do I prevent this?
Some of our linen fabrics are woven a little looser than the densely woven cottons or other common fabrics, so they can unravel or fray in the wash, especially in the first prewash.

We recommend serging/overlocking each raw (cut) edge of the fabric, or sewing the fabric edges together using a zig-zag stitch or straight stitch.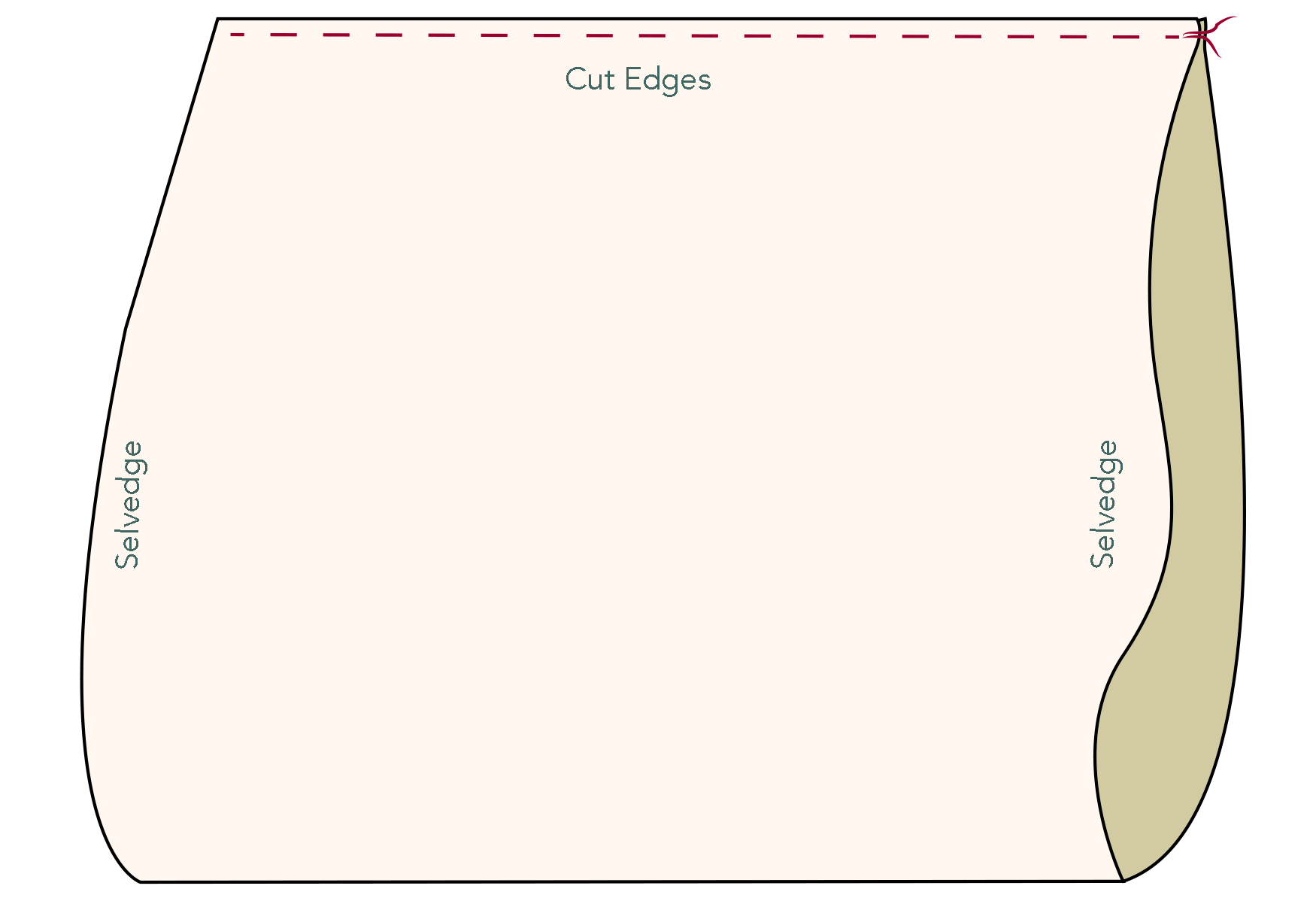 Once your fabric is washed, you can cut away the serged/sewn edge or unpick your stitching.
2. How many times do I need to pre-wash my fabric?
The number of times you need to prewash your fabric will depend on a range of factors. Generally, you should pre-wash your fabric once before sewing.
Some customers like to pre-wash several times because:
a) They want to get all the possible shrinkage out
b) They want the fabric to be softer before working with it
c) They have a high-efficiency machine that doesn't have a manual water level control

This last point is important. You want your linen to be able to freely move around and fully submerge in the water in your machine to achieve the maximum amount of shrinkage and wash thoroughly. Some newer machines will automatically select a water level, which may not fully submerge, or only just submerge your linen in water. So the best way around this is to dry the fabric, and then put it in the wash for another gentle cycle.

You do not need to repeatedly prewash your linen in hot water to remove shrinkage.
Doing this will damage the linen fibers, lessen their natural sheen, and reduce the life of your fabric.
3. I've over-dried my fabric and it's hard to iron, how do I get the creases out?
The trick to ironing linen is to do it while it's still a little damp from washing. But if you've accidentally over-dried the fabric, it can be harder to get the stubborn creases out.


To make ironing easier on fully dry linen, you can spray it with a bit of water. For stubborn creases, spray the fabric, put it in a ziplock bag, and then in the freezer for a couple of hours - it will be much easier to iron from the freezer. Or you can throw it in the rinse cycle again. Whichever is easier, the key is to add moisture into the linen fibers again.
4. My fabric is too large for my washer, can I cut it into pieces?
If you've purchased a large quantity of linen, the thought of pre-washing the whole lot can be daunting. Sometimes the amount of fabric you need may not fit in the washer you have, so the alternative is to take it to a laundromat with large capacity machines, or you can cut your linen into workable pieces.

Depending on your project, cut your fabric to the size you need, PLUS shrinkage. For more information about shrinkage see our article about it HERE
https://support.fabrics-store.com/hc/en-us/articles/4403190857485-Fabric-Shrinkage
5. Do I need to prewash my linen before dyeing it? If so, how?
We highly recommend pre-washing your linen if you are going to dye it. Depending on the dye you are using, you may need to prepare the fabric in a certain way. We recommend following the dye manufacturer's instructions for fabric preparation as they vary between dye types and manufacturers.
If you are naturally dyeing your linen, we have a great article on our blog about preparing your linen. Here is the link to the article:
https://blog.fabrics-store.com/2020/07/02/natural-dyeing-preparing-your-fabric-for-dyeing/
6. How much is my fabric going to shrink?
We have an article about estimated shrinkage for our basic linens and finishes HERE:
https://support.fabrics-store.com/hc/en-us/articles/4403190857485-Fabric-Shrinkage


You can also find information about shrinkage on each fabric page, here is an example from our Jacquard IL002 page: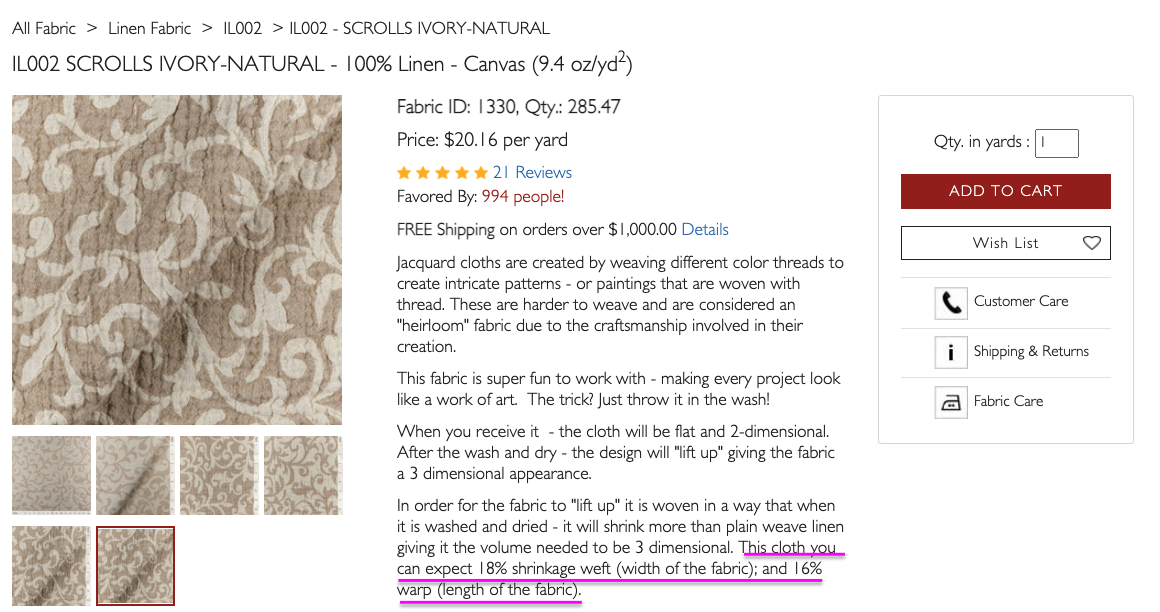 7. My linen is a bit stiff, will it soften in the wash? Can I add fabric softener?
We have developed our own fabric softener especially for our fabrics which you can find here:
https://fabrics-store.com/more
Follow the directions provided to get silky smooth fabrics, including linen which won't hinder its absorbency.


Linen is famous for its ability to soften with washing and wearing, so don't worry if your linen feels too stiff when you first get it. The first pre-wash will soften the linen up considerably, but if you want to get it softer, quicker, run your fabric through the washer and dryer a few more times.
We also find that if you dry your linen completely without ironing it when it is damp, this can make the linen feel crisp to the touch. Make sure you iron your fabric when it is still a little damp as the steamy environment helps soften the fibers.
You can also add a gentle fabric softener to your wash water, and you can use natural dryer balls when you dry it. We love 100% wool dryer balls.
8. Should I separate light and dark colors? Will the color bleed?
Please wash your dark and light colors separately, especially on your first wash. Some, but not all, dark or rich colored dyes can bleed on the first wash. Generally, any dye run-off like this is taken care of after the first wash, but it's best to wash your linen with like colors for the life of the item.
We have a great article about what to do about color leaching/bleeding in our pre-dyes linen or in your hand-dyed projects HERE: https://support.fabrics-store.com/hc/en-us/articles/360058915711-Home-Remedies-for-Stopping-Dye-Run-Leaching-

9. How do I remove stains?
To remove stains from your fabric, we highly recommend rinsing the stain with cool water first. For stubborn stains, you can also add a drop of gentle/natural dish soap to the area. Gently massage the soap into the area, do not rub it in as this can force the stain deeper into the fibers and potentially damage the linen fibers too. Then pop it in the wash with plenty of cool water ( hot or warm water can set in stains).
For stubborn stains, you can use a gentle stain remover product according to the manufacturer's directions, but be sure to use a natural stain remover without bleaching agents. Please spot test your stain remover on a scrap piece of fabric or inconspicuous place first to ensure it doesn't leave a mark.
10. I have a top-loading washing machine, when is the best time to add detergent?
If you have a top-load machine without a detergent dispenser, you should add your detergent once your washer has filled with water. Add your detergent to the water, not onto the fabric directly, then mix in by hand to make sure it has completely dissolved.

Please avoid placing detergent powders on liquids directly onto your dry linen before washing as this can stain or leave marks.
________________
If you have any more questions about caring for your linen, feel free to comment below, or contact us by phone or email.
You can even contact us directly using the Contact Us form on our website HERE.